Remedial Massage Brisbane
Looking for a Remedial Massage Therapist?
If you're looking for a qualified remedial massage therapist, then you've come to the right place. Our highly experienced massage therapy team offers a wide range of remedial massage services that can help to relieve pain, tension and other symptoms.
No matter what your specific needs are, our team of experienced massage therapists can discuss a suitable treatment with you. We use a variety of different techniques in our remedial massages to ensure we get to the underlying problems, making us the best remedial massage therapists that Brisbane has to offer!
Book a Remedial Massage Today
What is remedial massage?
Remedial massage is a type of massage that is used to treat muscular pain and tension. The therapist will use techniques such as kneading, friction, and stretching to release the tension in the muscles. It can be used to treat a wide range of conditions, including back pain, neck pain, headaches, sports injuries and more.
Remedial massage Therapists will use a variety of techniques to identify and repair problem areas, whether muscle, tendons or ligaments. Our therapists are skilled in symptom management, treatment and prevention. Our treatments focus on reducing tension in your muscles and enhancing blood flow, facilitating quick tissue repair while preventing any potential future issues.
Remedial massage is a powerful tool for treating damaged, knotted, tense and immobile muscles. It can effectively address aches and pains in the musculoskeletal system as well as help alleviate other physical health issues. It can also be an effective way to locate and eliminate the source of chronic pains. By targeting both their cause, as well as any radiating sensations in other parts of your body, we bring relief from a variety of muscular ailments.
What are the benefits of remedial massage?
Remedial massage is great for many different conditions, including back, neck, shoulder and leg pain. As well as helping with specific problem areas, remedial massage also helps overall with:
Relief from pain
Reduced stress and anxiety
Improved circulation for both blood and lymphatic
Improved flexibility and range of motion
Reduced muscle tension
Enhanced recovery from injury or surgery
Improve quality of sleep
Accelerate removal of toxins and metabolic waster
Reduce scar tissue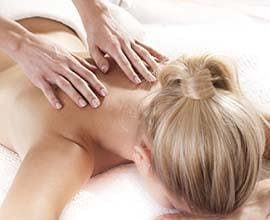 Is remedial massage the right type of massage for me?
Remedial massage can be used to treat the following:
Neck pain
Back pain
Shoulder pain
Lower back pain
Upper and mid back pain and soreness
Hip, knee and ankle pain
Headaches and migraines
Chronic pain
Fatigue
Muscle spasms
Arthritis
Pregnancy related problems
Other muscular and skeletal ailments
Remedial massage techniques
Our team of experienced remedial massage therapists use a variety of different techniques, so you can be sure that you'll be getting the best possible care. Some of the techniques we use include:
Swedish massage

- gentle form of massage that uses long, smooth strokes to relax the body

Deep tissue massage

- A more intense form of massage that targets the deeper layers of muscle and connective tissue

Trigger point therapy

- Involves applying pressure to specific points on the body to relieve pain

Myofascial release

- Uses slow, gentle strokes to release tension in the fascia (the connective tissue that surrounds muscles)
Remedial Massage Brisbane Northside
If you're looking for a qualified remedial massage therapist in your area, then please don't hesitate to get in touch with us today. We would be more than happy to answer any of your questions and help you book an appointment.