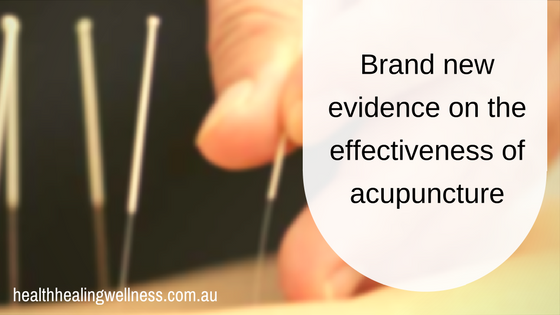 Brand new evidence on the effectiveness of acupuncture
Published: February 22, 2017 Last Updated: February 09, 2022
Brand new evidence report on the effectiveness of acupuncture
A recent study by the Australian Acupuncture and Chinese Medicine Association Ltd (AACMA) found evidence of the effectiveness of acupuncture for 117 conditions with strong evidence of the effectiveness of 8 conditions including chronic low back pain, tension headaches, and allergic rhinitis.
The study also established that acupuncture was considered to be safe in the hands of a well-trained acupuncture practitioner .
Study findings included:
Conditions with strong evidence supporting the effectiveness of acupuncture
Reviews with consistent statistically significant positive effects and where authors have recommended the intervention. The quality of evidence is rated as moderate or high quality.
Allergic rhinitis (perennial and seasonal)
Chemotherapy-induced nausea and vomiting (with anti-emetics)
Headache (tension-type and chronic)
Knee osteoarthritis
Migraine prophylaxis
Postoperative nausea and vomiting
Postoperative pain
Conditions with moderate evidence supporting the effectiveness of acupuncture
Reviews reporting all individual RCTs or pooled effects across RCTs as positive, but the reviewers deeming the evidence insufficient to draw firm conclusions. The quality of evidence is rated as moderate or high quality.
Acute stroke
Ambulatory anaesthesia
Aromatase-inhibitor-induced arthralgia
Asthma in adults
Back or pelvic pain during pregnancy
Cancer pain
Cancer-related fatigue
Craniotomy anaesthesia
Depression (with medication)
Dry eye
Hypertension (with medication)
Insomnia
Labour pain
Lateral elbow pain
Menopausal hot flushes
Modulating sensory perception thresholds
Perimenopausal and postmenopausal insomnia
Plantar heel pain
Post-stroke insomnia
Post-stroke shoulder pain
Post-stroke spasticity
Post-traumatic stress disorder
Prostatitis pain/chronic pelvic pain syndrome
Recovery after colorectal cancer resection
Restless leg syndrome
Schizophrenia (with antipsychotics)
Sciatica
Shoulder impingement syndrome (early stage) (with exercise)
Shoulder pain
Smoking cessation (up to 3 months)
Stroke rehabilitation
Temporomandibular pain
Conditions with weak positive/unclear evidence supporting the effectiveness of acupuncture
Reviews consisted mostly of weak positive evidence or conflicting evidence between reviews or between authors within a review, with reviewers summarising the evidence as inconclusive. Reviews are of low or very low quality, or there are conflicting levels of evidence within or between reviews.
Acupuncture in Emergency Department
Acute ankle sprain in adult
Alzheimer's disease
Angina pectoris
Assisted conception in ART
Asthma in children
Atopic dermatitis
Attention Deficit Hyperactivity Disorder (ADHD)
Autism spectrum disorder (ASD)
Bell's palsy
Bladder pain syndrome
Cancer-related insomnia
Cancer-related psychological symptoms
Carpal tunnel syndrome
Chemotherapy-induced peripheral neuropathy
Chronic fatigue syndrome
Chronic kidney disease
Chronic obstructive pulmonary disease (COPD)
Chronic urinary retention due to spinal cord injury
Chronic urticaria
Dysmenorrhoea
Dyspepsia in diabetic gastroparesis (DGP)
Erectile dysfunction
Exercise performance & post-exercise recovery
Fatigue in systemic lupus erythematosus
Fibromyalgia
Functional dyspepsia
Gag reflex in dentistry
Glaucoma
Heart failure
Hot flushes in breast cancer
Hyperemesis gravidarum
Hypoxic-ischemic encephalopathy in neonates
Inflammatory bowel disease
Itch
Lumbar spinal stenosis
Melasma
Meniere's disease/syndrome
Multiple sclerosis
Mumps in children
Myelosuppression after chemotherapy
Oocyte retrieval pain relief
Opiate addiction
Opioid detoxification
Parkinson's disease
Polycystic ovarian syndrome
Poor sperm quality
Postnatal depression
Postoperative gastroparesis syndrome (PGS)
Postoperative ileus
Post-stroke hiccoughs
Premenstrual syndrome
Primary ovarian insufficiency
Primary Sjogren's syndrome
Psoriasis Vulgaris
Rheumatoid arthritis Slowing progression of myopia
Spinal cord injury
Stress urinary incontinence in adults
Sudden sensorineural hearing loss
Surgery analgesia
Tinnitus
Traumatic brain injury
Urinary incontinence
Uterine fibroids
Vascular cognitive impairment without dementia
Vascular dementia
Whiplash-associated disorder (WAD)
Xerostomia in cancer
The study also looked at the evidence of cost effectiveness and the safety of acupuncture for various conditions.
Download the full Acupuncture Evidence Project: A Comparative Literature Review
Reference - McDonald J, Janz S. The Acupuncture Evidence Project: A Comparative Literature Review (Revised Edition). Brisbane: Australian Acupuncture and Chinese Medicine Association Ltd; 2017. http://www.acupuncture.org.au.