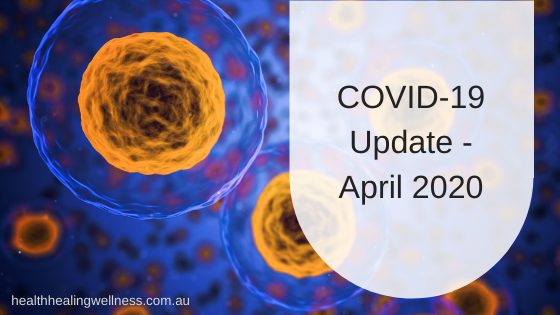 COVID-19 Update April 2020
Published: April 16, 2020 Last Updated: February 09, 2022
In light of the COVID-19 Pandemic and the changes made within our community, we wanted to provide our wonderful patients with a quick update of our current clinic operations.
The Health and Healing Wellness Centre is working within current Government guidelines and as such we are still able to offer most of our usual services.
Due to some restrictions we have slightly altered hours and, in some circumstances, consultation conditions. These are as listed below:
Dr Luke Fairbrother - Chiropractic
Dr Luke Fairbrother is doing chiropractic consultations in the clinic as per usual
Luke is available Monday through to Saturday, the following hours:

Monday - 8 am - 6 pm
Tuesday - 8 am - 6.30 pm
Wednesday - 7.30 am - 5 pm
Thursday - 8 am - 6.30 pm
Friday - 8 am - 1 pm
Saturday - 7.30 am - 1.30 pm
Tina White - Naturopath
Tina is working remotely, doing naturopath consultations via SKYPE or phone.
She is available Tuesdays, Wednesdays, and Thursdays (usual hours)
Greg Bantick - Traditional Chinese Medicine
Greg is doing herbal consults only.
Working remotely carrying out consultations via SKYPE or phone.
He is available Tuesdays, Thursdays, and Saturdays (usual hours).
Unfortunately, due to government directives and regulations regarding COVID-19, the clinic is unable to offer remedial massage, Endermologie, LipoCavitation or Infra red Sauna appointments at this point in time.
We are hopeful that the government will lift these restrictions sometime in the near future. Once this happens we will be yelling it from the rooftops! (And putting out updates via Facebook, our Website, and the Newsletter.)