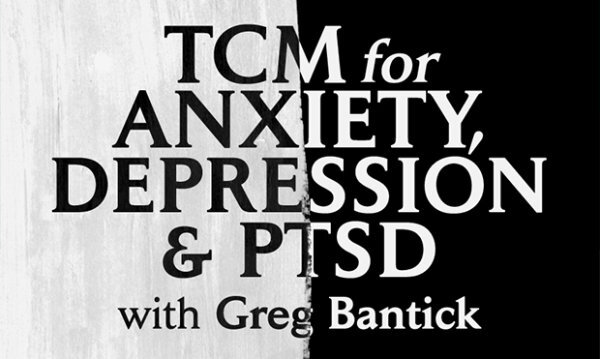 ​TCM for Anxiety, Depression, and PTSD Workshop
Published: April 23, 2019 Last Updated: February 23, 2022
TCM for Anxiety, Depression, and PTSD Workshop with Greg Bantick and Acuneeds Australia
This 2-day workshop combines herbal medicine and practitioner self-care. Bringing you a balanced experience that will expand your knowledge of herbal medicine and nourish you as a healer. Day 1 will cover herbal medicine with a focus on Depression, Anxiety & PTSD. Day 2 will take a step back from classroom-style learning and focus on your health as a healthcare provider, exploring common industry stresses and treatment strategies. Come away from this seminar feeling stronger and refreshed.
12 Hours - 12 CPD Points
Includes 6 professional issues points:
Interview techniques for accurate diagnosis
Valuable insights into formulas
Depression, Anxiety and PTSD
How your thoughts affect treatment
Strategies for self-care
Keys to a long healthy career
Cost for the 2-day workshop - $595 ex GST - includes tea and coffee on arrival plus full buffet lunch each day.
TCM Workshop dates and locations
Adelaide - April 27 & 28 - 9 am to 4 pm - Majestic Roof Garden Hotel, 55 Frome St, Adelaide
Melbourne - May 4 & 5 - 9 am to 4 pm - Mantra City on Bell, 215 Bell St, Preston
Brisbane - Aug/Sept 31 & 1 - 9 am to 4 pm - Brisbane International Virginia, Sandgate Rd & Zillmere Rd, Boondall
Sydney - September 21 & 22 - 9 am to 4 pm - Mantra Chatswood, 10 Brown St, Chatswood
About Greg Bantick
Greg is an extremely talented presenter who has worked and studied with many well known TCM practitioners and was part of a small group that set up the first college in Brisbane in the late '70s. Additionally, he has spent time in China and Japan and taught around the world. He spent most of 20 years training, practising and teaching in the U.S., where he held senior academic positions in 2 leading colleges.
On day one
Chinese herbal medicine is a vast topic, as is the treatment of mood disorders. We are seeing more patients suffering from a variety of mood disorders. As practitioners, we also have moods, many of which are difficult and may influence our ability to treat. Given the breadth of the topic, we will focus on depression, anxiety and PTSD.
This workshop has three aims:
One, to focus on identifying the skills necessary to be a good herbalist and some strategies to help develop them.
Two, interviewing to refine our diagnosis of mood disorders, toward the selection of appropriate formulas. We will consider some classical descriptions helpful in understanding contemporary clinical presentations.
Three, how to diagnose and treat depression, anxiety and PTSD.
Toward these aims, we will learn who developed the formulas; the conditions the originators were responding to; how they were thinking about the cases in front of them; some classical and modern clinical uses of them; and how to modify formulas to treat a variety of presentations. Case histories will be used to illustrate these points. This workshop will be helpful for those wanting to start using Chinese herbal medicine, and for experienced herbalists wanting to improve their skills and clinical results. The second workshop is on self-care for practitioners. While Chinese herbal study can be expansive, even overwhelming, many successful practitioners in China and abroad develop mastery of a small number of formulas and how to modify them to treat a wide variety of presentations. You can too. Formulas we will cover. Reading about them in a good textbook would be good preparation for the workshop. We will mention a few others useful to follow up on.
Si ni san – Frigid extremities powder
Xue fu zhu yu tang – Drive out stasis from the mansion of blood decoction
Ban xia xie xin tang – Pinellia decoction to drain the epigastrium
Ban xia hou po tang -
Bu zhong yi qi tang – Tonify the middle and augment the qi decoction
Gan mai da zao tang – Licorice, wheat, and jujube decoction
Wen dan tang – Warm gall bladder decoction
Suan zao ren tang – Sour jujube decoction
Tian wang bu xin dan – Emperor of heaven's special pill to tonify the heart
Bai he di duan tang – Lilly bulb and Rehmannia decoction
Chai hu jia long gu mu li tang – Bupleurum plus dragon bone and oyster shell decoction
Gui zhi jia long gu mu li tang – Cinnamon twig plus dragon bone and oyster shell decoction
Da chai hu tang – Major bupleurum decoction
Being a good herbalist in the Chinese medicine tradition takes time and persistence. Most good herbalists are well read and have seen many patients. They have studied the formulas and ideas of several of the great schools within medicine. If they are fortunate, they have also worked with practitioners of deep experience in these various schools. Over time, and with the ongoing study we can absorb the many ways of thinking represented in the construction of classical formulas. The good news is that our aspiration to be a good herbalist will take us on a rich and rewarding journey, throughout our careers. Herbal medicine is very effective and able to help many people. The thoughts and experiences of some of the great herbalists are important and very helpful. Often able to offer treatments where conventional medicine struggles. Some of their texts must rank high amongst the medical writings of humanity.
My experience as a practitioner, teacher, and mentor has helped me identify some of the skills a practitioner needs to develop, and some helpful study habits and practices to acquire them. For over 40 years I have been practising, and teaching Chinese medicine in Australia, and living overseas in Asia and the U.S. I have held senior academic roles in leading colleges, been a classroom teacher, and clinic supervisor over that time. One of my main interests has been understanding the different perspective Chinese medicine has of mood disorders, and what is a good life. Also, how to interview to arrive at a diagnosis and appropriate formula selection through skilful questioning. Fortunately, along the way, I have had many well trained and clinically skilful colleagues and mentors to help me. I hope to pass on some of what I have learnt that you may know how to continue to train yourself. This is the foundation of confidence and the development of experience as a practitioner.
On day two
This workshop is an opportunity to attend to you. Our work lives, and often our home lives, are often directing our attention to others. We may not have much time, or encouragement to know our own needs. This will be a chance to practice the fine arts of relaxation, concentration, kindness and curiosity. It is an opportunity to reflect on the privilege and burden of practice, with a few of your mob. It will be a retreat for practitioners. There will be time for stretching, meditation, reflection, and sharing. This is a chance to know and refine ourselves as instruments, rather than to acquire more knowledge. In learning to hear ourselves, we can begin to better care for ourselves, and by extension others.
While it is deeply satisfying and a privilege to be a practitioner, we are also faced with many challenges. Most of us need to become small business owner operators, with the many skills and stresses that entails. In spite of registration, we are still outsiders. While we make enormous contributions to the health of our society we do so with limited resources. Many practitioners are over or underworked, and struggle financially. Often our profession values competition over nurturing. Busy assembly-line clinics are valued as the ideal. Workaholics are admired. A cry for help is often seen as weakness. We are often misunderstood, by our patients, by the culturally dominant medicine, even by our families and friends. We can feel severe psychological pain as a result of the responsibility of being a practitioner, and because of the suffering we witness. Many people leave our profession. Others succumb to psychological or other illnesses, others to drug and alcohol abuse, a few to arrogance and lack of empathy, and some to suicide.
This workshop will address some of these problems, discuss compassion fatigue and secondary trauma. We will identify the signs, symptoms and indications of them. Participants will be invited to share their experiences. Some strategies for practitioner self-care will be offered and a chance to share what you have found helpful.
This is a one-day retreat, for you. To that end you are encouraged, you have permission, to wear loose comfortable clothing. It will be ok to use chairs, sit or lay on the floor. Bring blankets and cushions. You are encouraged to rest from screens, and social media, and spend the day attending to you. Some may prefer to stay quiet, refraining from chatting, perhaps eating in silence. Those that need to talk, might choose to speak quietly and attentively, a little away from others. Consider not wearing make-up, jewellery, perfumes, or clothes designed to catch attention. Let's encourage our attention to move inwardly.
My experience as a practitioner, teacher, mentor and meditation teacher has helped me identify a variety of difficulties that arise in clinical practice. Some of these are common to other health care practitioners. Others are unique to our profession. For over 40 years I have been practising, and teaching Chinese medicine, in Australia and living overseas in Asia and the U.S. I have held senior academic roles in leading colleges, working on what skills a practitioner needs and some useful practises to acquire them. Simultaneously I have been a meditation student and teacher training in many settings. Everyone can and does meditate. Everyone can learn to refine the capacity to know ourselves and others. Everyone can develop a sensitive and balanced subjectivity to better empirically know. Just as we develop the balanced subjective knowing of a point's location by palpation, or the meaning of a pulse, by feeling it, we can learn to know our minds, thoughts, and feelings in a more balanced and reliable way.
WORKSHOP CLOSED