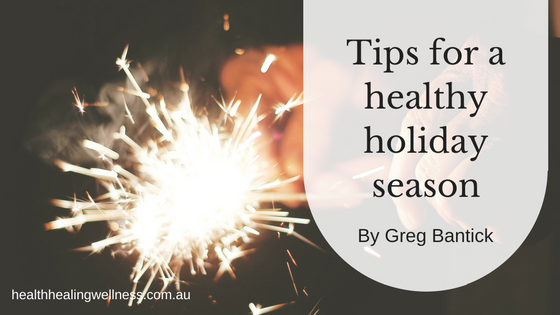 Greg Bantick's tips for a healthy Holiday Season
Published: December 05, 2016 Last Updated: February 09, 2022
It's the end of another year. For many of us, it has been a busy and eventful year. Outside our personal lives, there have been many dramatic world events that also influence us. Now comes a string of events, entertaining, cooking, cleaning, shopping, packing and more. It is a time of workplace and other social get-togethers. For many, it is when family gets together. It can be a good time of the year, and it can also come with some challenges. There is an ideal that the holidays are meant to be fun and enjoyable. The reality is often different.
Here are a few suggestions, from Chinese medicine , to help us at this time of year.
1. Don't give up your healthy habits
Overindulgence will not help us, rather it may add to our guilt and shame. Stay active, get plenty of sleep and rest. Avoid overeating and eating junk food.
2. Plan ahead
Keep track of events and don't take on too much. Plan meals, cooking and shopping ahead of time. Get help with tasks.
3. Stick to a budget
We can't buy happiness. Avoid the trap of spending more than you can afford. Inexpensive handmade gifts, family gift exchanges and simple, tasty, fresh food meals are good for us all.
4. Be realistic
Get-togethers don't have to be perfect, momentous, or like they were last year. Families grow and change and traditions and rituals will too. Talk to each other and decide which traditions are important to keep.
5. Learn to say no
Saying yes when you should say no may leave you feeling resentful and uneasy. Relatives and friends usually understand our need to reschedule or arrange alternatives.
6. Herbal medicine, acupuncture, and cupping
If you are feeling overwhelmed, have a relaxing acupuncture treatment . Acupuncture and cupping over tight muscle is very relaxing. Taking herbs can help us maintain good digestion, aid sleep, and calm our minds. If you are really tired, having difficulty sleeping, irritable, suffering digestive problems, feeling anxious or depressed, treatment can help. No need to continue to suffer, we are here to help.
7. Watch comparing mind
We can be easily drawn into comparing ourselves with others, or the ideals portrayed in media. Watch what sorts of thoughts and feelings get triggered and take care of yourself. For example, we may think the ideal family get together is one where everyone gets on, is happy, and has a fun time. While this may happen, it may also be the case that we find someone in the group difficult to be with. Or, that someone may not be feeling well, they may be tired and irritable and just having a bad day. Meeting people and events as they are, is often more comfortable than being in conflict with them.
8. Take time out
Take some time by yourself to let the dust of our busy lives settle. Before the next event digest the previous one.
Greg Bantick – acupuncture and Chinese herbal medicine.